what is love?
by Balaji Mahesh
(Bangalore,karnataka,India)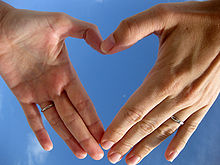 lovers make love
Am Balaji Mahesh.B, these are my words about my great love

Love:
Love is an emotion of strong affection and personal attachment.

Love is Beautiful:

R U in LOVE.No problem love makes life Beautiful. Symbol of beautiful love "Bunch of flowers"

Love is life:
Means love is there anywhere.
.Family Love
.Friend Love
.Animal Love
.Nature Love
.Instrument Love
.Book Love

Love is God:
Love is one of the feel,everybody please enjoy that feel.

Love is not a attraction or not a any sexual enjoyment,love is god.Symbol your "Heart"

Love is Helping:
You know helping is my personality.Love start at helping nature.

Please help to others and make your life constantly in love.

Now a days love:
Now a days, there is no 100% love.Please don't destroy LOVE of Meaning.
.Love is polluted
.Love is Sex
.Love has no settlement in Life
.Love destroying by Lovers

My Love:
.In 10th class i like one girl(she is my madam)
.In 12th i like one girl(attraction of love)
.In Degree i like one girl(she is one of bubbly
girl.But i don't know this is attraction or
Love)
. In MCA (am not found 100% love,Now i know love
means settlement of life)
In my life, i know what is love. But,still am seeking the feeling of love.
I don't know when i will get true lover.Upto that,am searching keep on............!!!!!!!

Cautions:

1.Please don't give hand to your parents.
2.Please do love not only beautiful people and also Handicapped people(in that you will give life to them).
3.Please don't take diverse after love marriage.
4.Please u r inspiration to other lovers.
5.Find pitfalls of your love and make solution.

Finally,
I don't know how u feel about of my words.Once u feel bad, i don't have to say sorry to all. Reason is these are main important key issues of life...k.....
............Take care bi c u..........
...............ur balaji..............