The Goal Kicker – August 2008 Hot Topics
Welcome to this month's edition of "The Goal Kicker" – the monthly ezine produced by achieve-goal-setting-success.com - dedicated to helping you achieve your goals by providing goal setting related articles and reviews of the latest goal setting products available.
In this edition you'll find:
An article on "7 Reasons to do Community Service: How Community Service can help your success and happiness."
A review of the "NovaMind Mind Mapping Software" , from NovaMind
A review of the book "How to Set and Achieve a Goal", by Arina Nikitina
A review of this month's Featured Link to www.TonyRobbins.com
ToolBOX Talk – how to get the best out of the "Debt" worksheet
Our inspirational quote of the month explained.
So, I hope you enjoy this month's edition of "The Goal Kicker" – and achieve your own personal success by setting goals today.
And don't forget that you can inspire others to achieve just by telling YOUR story of success or lessons learnt from a life experience.
Yours truly,
Sam Sander

Have you downloaded your FREE gift for subscribing to "The Goal Kicker"? If not, please download and enjoy your FREE copy of "How to Make your Dreams Come True" by Don Loyd as a thank you for subscribing to our newsletter.
As part of this subscription we also issue a mid-month mini-newsletter – "The Goal Kicker: Hot Topics". This mid-month issue is part of the same subscription as the monthly "Goal Kicker" and will include a short punch-list of new releases, new websites and refreshers on a range of success topics.
---
"7 Reasons to do Community Service"
What's this article about?
This article is about how Community Service can help your success and happiness. We all know that doing community service is a 'good' thing to do, but do you know why? And it's not just that you're helping the underprivileged or the environment – there are some real tangible benefits from helping others. This article discusses 7 of them.
Here's the Article…
We all know that doing community service is a 'good' thing to do, but do you know why? And it's not just that you're helping the underprivileged or the environment – there are some real tangible benefits from helping others. This article discusses 7 of them.
1. Karma
"What goes around, comes around", "The Boomerang effect", "Karma" – what ever you want to call it, there is mounting evidence that when you do good things, good things happen to you. The Law of Attraction explains it as attracting good by doing good, and by maintaining the flow of good positive energy.
But more logically, if you are doing good things for your community, then you're focusing on positive attributes of yourself and others and this has real spin-offs in the form of a positive outlook on the rest of your life.
2. Perspective and Passion
I've learnt from personal experience, when you're helping a young family pull together their lives after losing everything in a cyclone – you begin to understand what really matters. Community service of all kinds gives you this grounding perspective.
But from that grounding perspective comes passion. Passion to help others in the same situation and passion to protect your family and community from the same thing. And passion is such a wonderful and motivating force – you can achieve anything with passion!
3. Networking
Volunteer organizations attract people from a wide range of backgrounds and professions – students, unemployed, retirees, trades people, professionals and business executives – so volunteer organizations give you a fantastic opportunity to network!
And you never know what opportunities you'll encounter with this new network of contacts. We managed to renovate our house for half the cost through the contacts we've met in our community work! Not to mention, that's where I met my lovely partner!
4. Understanding People
Inevitably, community work involves working with other people – whether it's other community workers or the people you're helping. So the ability to communicate and understand these people is paramount for your own sanity, and of course your effectiveness.
And because the people in volunteer organizations come from a diverse background, you get to develop communication skills with a wide range of personalities. You can't pay for emotional intelligence training like this!
5. Learn New Skills
As community work actually involves doing something, you will gain skills in the particular 'something' of the organization you've joined. Whether it's tree planting, first aid and rescue skills, counseling, organizing, planning or even blanket knitting – you WILL learn something new.
And some skills such as first aid and planning and organizational skills you'll find helpful in other aspects of your life too!
6. Contribution to the greater good
Don't forget the big warm and fuzzy feeling you get when you know you've made a contribution – whether it's the environment or humanitarian causes, it all contributes to the greater good.
7. Your legacy
How do you want to be remembered? What do you want to see written on your tombstone or in your obituary?
We all want to be remembered as something special – a loving partner and parent, a successful career, a passion. But a community minded spirit is the BEST legacy.
So how can YOU help?
Well you can start by telling people about how you or someone you know contribute to the community or environment – even if this contribution seems small – and inspire others to do the same. Or read about what other people are doing and give them a boost by posting a supportive comment. Just click here to share your story or post a comment about someone else's experience.
And of course, you can get more involved with your community or an environmental cause – you'll marvel at the difference just one person, YOU, can make. Here are some ideas to get started...
---
Product of the Month – "NovaMind Mind Mapping Software"
Mind Mapping is a technique we promote for goal setting as it allows you to determine what you really want in a creative and unrestricted manner. It's also great for plotting a map of you goal, including all relevant information and requirements, in one great visual aid.

NovaMind is an excellent graphical tool for mind mapping and works wonderfully simply in a way that almost hides its complexity and wealth of intuitive features. It provides excellent value for money and is under active continuous development and improvement. You'll have no regrets buying this software for your mind mapping needs. And you get great support from the company too!
Recent research has shown that Mind Maps improve your clarity of thinking, help you manage information overload, are likely to improve your productivity by 20% or more, and will help you to be better organized and communicate better.
NovaMind Mind Mapping software allows you to produce unique, information rich, vivid solutions for enhanced creative thinking and compelling presentations. Smooth curves and colorful pictures create powerful images for your brain to remember. Branches can be contoured to your liking for a Mind Map that will reflect your own distinct style.
The NovaMind unique Branch Proposal System suggests new ideas and new directions for your thoughts.
The information stored in your mind map is compact and meaningful, allowing you to see the important issues, organize your thoughts, and solve problems quickly and effortlessly. The solutions are new and effective, and can easily be presented to others using graphical or text representations.
NovaMind Mind Map Software makes MindMapping intuitive and fun.
Refer to the "Software" and "Systems" tabs on the NavBar for more reviews on other goal setting software and systems available.
---
Book of the Month – "How to Set and Achieve a Goal", by Arina Nikitina
Did you know that every single person has the potential of turning ANY of their wildest dreams into everyday reality? And you are no exception!
You were born with the greatest ability to turn your dreams and fantasies into tangible reality. You can achieve any goal you set your mind to. You can climb any mountain you want. You have the potential to become a pure success in every business you start.
Richard Bach wrote that "You are never given a dream without also being given the power to make it true".
So the question is...Why then 97% of people fail in goal setting?
That's simple - because they don't know HOW to set and achieve their goals!
Goal setting is not just deciding what you want and trying to reach it. It is a step-by-step proven method of achieving the desired results. It has its own rules and regulations.
Goal setting is not a complicated science with hundreds of complicated formulas... In fact, it's really simple. But in order to use this system effectively, you have to know how it works. That's what "How To Set And Achieve A Goal" is about.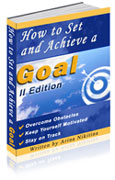 "How To Set And Achieve A Goal" reveals 27 proven goal setting techniques that are guaranteed to work even if – like me - you have no dedication, no persistence, and no willpower whatsoever! It also includes 9 worksheets that practically develop a step-by-step success plan for you. Just fill in the blanks and answer a couple of easy questions and you're ready to start making your dreams come true!
"How To Set And Achieve A Goal" includes:
3 powerful techniques to help you get rid of negative emotions and stress that are holding you back and prevent you from being successful.
Top 3 techniques on how to develop a positive attitude... no matter what happens with you.
How to figure out what you really want and what is your most important goal at this moment.
How to develop the intense desire to reach your goal so you knew with absolute certainty that you would absolutely, positively never ever give up.
How to develop unstoppable belief in yourself and eliminate fear and doubt forever.
The secret of the first step how to overcome the law of inertia.
Top 7 leading motivation techniques that will put you on the fast track to your goal.
How to overcome any obstacle standing in your way in 4 easy steps.
How to resist any temptation that stands in your way with one simple question.
How to stop putting things off and start to complete all the tasks in time.
How to find time on working on your goal even if you're the busiest person on earth.
…and a lot more! You too can achieve ALL your goals!
You can also check out these Articles written by Arina Nikitina, and watch out for my emails over the next couple of days covering an exciting new goal setting workshop being conducted by Arina.
---
Featured Link of the month - www.TonyRobbins.com
Tony Robbins

Anthony Robbins has dedicated his life to creating and implementing strategies for the extraordinary quality of life desired by individuals and organizations throughout the world.

As the recognized leader in human-development training, Anthony Robbins creates and simplifies the tools and resources that transform customers' lives. In 25 years as the Chairman of his company, Anthony Robbins has produced a wealth of products and enough tape with his voice on it to wrap around the earth four times!

For more than a quarter of a century, Anthony Robbins has served as an advisor to leaders around the world. A recognized authority on the psychology of leadership, negotiations, organizational turnaround, and peak performance, Anthony Robbins has been honored for his strategic intellect and humanitarian endeavors. He has produced the #1 audio coaching system of all time and has directly impacted the lives of nearly 50 million people from 80 countries with his best-selling books and audiotape products, public speaking engagements, and live appearances.

And the best thing is that all of Robbins knowledge on how to be a success has been captured in the training systems and resources he's developed over the years. His seminars are world-famous and well worth attending if you can do so – everyone who attends these seminars are totally hooked on self-belief and how they can succeed.

But if you can't go to his seminars, you can still obtain this wealth of knowledge from the books and programs Robbins has developed, including the world famous Get The Edge! and Get the Body You Deserve!

Check out the Tony Robbins website to find out more – there's something for everyone!
---
ToolBOX Talk – how to get the best out of the 'Debt' worksheet
The ToolBOX on the website contains FREE forms, templates and worksheets for all your goal setting needs.

In the "Financial Tools" section you'll find a Debt Worksheet. The purpose of this worksheet is to prompt you to get together the details of all your debts. Not this is only half the story – the real trick is what you DO with this information to help you take action in reducing your debts.

But lets start with the worksheet. The worksheet asks you to list the details of all your debts and loans, including:
The type of loan or debt – is it a credit card debt, house mortgage, student loan, etc. What exactly the debt is for and which financial institution is the debt with.
The amount owing - if you could pay out your loan today, how much would you need to pay? It's also worth considering whether there are any fees for early payment of your debts!
The minimum repayments - how much do you repay per week or per month on each debt. Keep all the repayments in the same timeframe (ie weekly, monthly, etc) so you can tally them all to give you your total debt liability.
The date to be paid out - when will each loan be paid off, based on minimum repayments.
The interest rate of the loan – this is the most important thing to get down and forms the basis of your debt reduction strategy.
Whether it is good or bad debt. Good debt includes debt on cars, houses, businesses and investments, student loans, etc – ie debt that provides a lasting benefit for you. Bad debt is frivolous credit card spending on non-essential items, personal loans for holidays and plasma TV's, etc.
Once you've got all this information down, you've made a great start! But the real benefit of this form is what you do with the information. And here are some tips:
How much money do you owe in total? Do these numbers scare you? How much of this is for good debt and how much of it is bad? If your debt pattern shows more bad debt than good, then you need to rethink your purchasing strategy. Budget and save for luxury items rather than accruing more bad debt.
What is your total weekly repayment of debt? What percentage of your total income is this and is it hurting your hip pocket? If you are struggling with repayments, then consider consolidating your debts (talk to your financial institution about this) and do some serious budgeting to get your out of strife. And definitely NO MORE Credit/ store cards!
How many different financial institutions do you have finance with? There may be some savings in consolidating all of your debts into one loan with one financial institution, depending on what loan termination fees there are on your debts. There are particular benefits in including personal type loans in your house loan (if permitted) as typically the interest rate is less.
But most importantly, when developing a debt reduction strategy you need to consider which debt has the highest interest rate and which has the lowest. And which debts are for business activities, in which case the interest repayments may be tax deductible.
The important thing here is that the golden rule in finance is that you direct your money into whatever has the highest effective interest rate. Consider the following debts as an example:
Personal loan (for holiday to Hawaii) - $25,000 at 7.5% interest per annum.
House loan - $250,000 at 6% interest per annum.
Loan for shares - $70,000 at 8% interest per annum.
You may think that because the house loan is the highest value, you should pay that one off first. But in reality, it has the lowest interest rate and is also backed by a valuable asset.
So then you might think about paying off the loan for the shares because it has the highest interest rate, but because this is a 'business' loan, the interest payments may be tax deductible [check the tax laws in your country though to confirm this]. So the effective interest rate for this loan is less. (In this case for example, if your tax rate is 30% then the effective interest rate is 8% x (100% - 30%) = 5.6% which is less than the interest rate on your house loan).
So which of these loans should you be focussing on first? The personal loan for the holiday, of course. Not only is it a 'bad' debt because there is no tangible asset from it, but the effective interest rate is the highest of the 3 loans in the example.
Once this loan is paid out, then any spare cash should be directed to the house loan and finally the share loan which has the lowest effective tax rate.
Of course, if debt is a real problem for you then the best thing to do is get all the information down on the 'Debt Worksheet' and then see an accountant or financial advisor to discuss your options – this will be the best money you've ever spent!
For more information on financial goals such as debt reduction and savings plans, refer to the ""Financial Goals" page of the website, under the "Popular Goals" tab on the NavBar.
Have you got a better goal setting tool that you'd like to share with the world? Well, send it in and we'll add it to the ToolBOX – kudos to you of course!
---
Our Quote of the Month – explained…
"What you think, so you will become", Napoleon Hill Napoleon Hill is considered the founder of modern motivational theory, with all modern concepts – including the Law of Attraction – stemming from his theories in some form. And at the centre of Napoleon's thinking is the concept that 'what you think, so you will become'.

In fact, the Law of Attraction practically embodies this principle – by positively visualising your success, you will succeed.

We also discuss this concept on the website as the 'expectant power of the brain'. Positive affirmation, imitating success and the 'placebo' effect are all variations of this principle. Your brain can be trained by positive and negative emotions, so if you train your brain with positive thoughts and affirmations, you can expect positive outcomes.

Of course, the opposite of this applies too. If you see yourself as a failure, or if you always expect 'the worst', or if you're one of these 'glass is half empty people' – odds are, that is how your life is turning out too. Negative thoughts attract negative reactions.

And it can be difficult to change your outlook – but if you are a 'negative' person, I strongly encourage you to read all you can on the power of positive thought. And start saying "I can", rather than "I can't", "I will", rather than "I'll try", and "I'm a success" rather than "I'm a failure". Expose yourself to positive people and environments, and steer clear of negative influences – including the TV!

You'll be surprised how you CAN change your life just by the power of positive thought. Think successful, and you'll be successful.
---
Well, that's all for now!
But don't worry, the next edition of "The Goal Kicker" is only a month away.
We would love to get your feedback on "The Goal Kicker"– what do you like? What don't you like? - so we can make it even better.
Catch you next month!