The Goal Kicker - September
Welcome to this month's edition of "The Goal Kicker" – the monthly ezine produced by achieve-goal-setting-success.com - dedicated to helping you achieve your goals by providing goal setting related articles and reviews of the latest goal setting products available.
In this edition you'll find:
An article on "Imitate Success and you'll be one."
A review of the "Personal Strategic Plan" , from the GoalsGuy
A review of the book "Manage My Time Now", by Rigdha Acharya
A review of this month's Featured Link to www.GoalsGuy.com
ToolBOX Talk – how to get the best out of the "Environmental Audit" worksheet
Our inspirational quote of the month explained.
So, I hope you enjoy this month's edition of "The Goal Kicker" – and achieve your own personal success by setting goals today.
And don't forget that you can inspire others to achieve just by telling YOUR story of success or lessons learnt from a life experience.
Yours truly,
Sam Sander

Have you downloaded your FREE gift for subscribing to "The Goal Kicker"? If not, please download and enjoy your FREE copy of "How to Make your Dreams Come True" by Don Loyd as a thank you for subscribing to our newsletter.
As part of this subscription we also issue a mid-month mini-newsletter – "The Goal Kicker: Hot Topics". This mid-month issue is part of the same subscription as the monthly "Goal Kicker" and will include a short punch-list of new releases, new websites and refreshers on a range of success topics.
---
"Imitate Success and you'll be one."
What's this article about?
By visualising what success looks like to you and then imitating this success now, the expectant power of the brain through positive affirmation means that you will become the very success story you're imitating. Read this article and find out how to imitate your own success.
Here's the Article…
To imitate success is a prime example of positive affirmation and the expectant power of the brain. By imitating success, you project the image of success to your peers and most importantly, to yourself.
And as we know, the expectant power of the brain is a magical thing [just read my last article on using the expectant power of the brain to succeed] – if you expect to succeed, you will! Particularly if you have a well thought out and structured plan for your success, which of course you can get from the goal setting process.
So how do you imitate success?
Step 1: Know what your success looks like. Close your eyes and visualise yourself in your perfect career and doing what you would be doing if you were successful. What do you look like? What are you wearing? What are you doing? How are you behaving?
And remember that success is not material possessions or objects – it's about your self-satisfaction and having a feeling of success. Successfully toilet training a toddler can have the same level as satisfaction as closing a deal with a client!
Having a visual image of what success means to you is an effective way of having something to strive towards – and more importantly, this vision is what you need to imitate as much as possible to start the ball rolling.
If possible, find images from magazines or the internet that best reflect your vision of success and use these as a guide for the next steps of success imitation.
Step 2: Look like your vision of success. What do you look like in your vision of success? How can you look like that NOW?
It's easy to change your wardrobe and style to reflect your vision – and use the images from Step 1 to help you fine-tune this style and get the right accessories. You can also observe other people that seem to fit your success vision and get advice from retailers. It's all about getting 'the look'.
Other aspects of your look may be harder to change – perhaps you're a little slimmer in your vision? But you can work towards achieving these aspects by setting goals. So no excuses – make yourself look like your vision of success!
Step 3: Behave like your vision of success. What were you doing in your vision of success? How were you behaving/ acting? And what habits do you need to change or develop to be able to behave like that NOW?
Changing the way you behave takes a little longer than the instant effect you get from changing your image – but it can be done. And this is where positive affirmation helps by saying out aloud [repeatedly and with conviction] the behaviour you want to develop.
Step 4: Believe in your success. Yes – back to the power of positive thinking again! But if you believe in yourself and believe that you can really be a success – then it can happen! Use goal setting and action plans to guide you there, and start living like you're already there!
So by visualising what success looks like to you and then imitating this success, the expectant power of the brain through positive affirmation means that you will become the very success story you're imitating.
Refer to the "Life Skills" and "Success Secrets" tabs on the NavBar for more info on how to be a success...
---
Product of the Month – "Personal Strategic Plan"
One of the keys to goal setting success is keeping your goals PERSONAL and meaningful to you. The other key to goal setting success is implementing a Plan of Action towards your goal.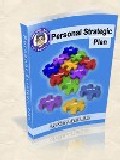 The Personal Strategic Plan offered by GoalsGuy is a step-by–step program that leads you through the goal setting process, and delivers a strategic plan of attack for your to achieve YOUR goals. It is based on the premise that life will not go according to plan, if you do not have a plan to begin with. The Personal Strategic Plan also helps you identify what's really important to YOU – and that's what's REALLY important.
Personal strategic planning will help you:
Provide direction, meaning, and purpose for your life.
Create a personal vision that is filled with hope and opportunity.
Guide your career for maximum growth and contribution.
Make decisions that positively affect your future.
Clarify your legacy.
Become a better human being that adds value to society.
Focus your energies on what's most important.
Achieve the greatest results in the shortest period of time.
Significantly increase your level of performance.
Enjoy more time, money, balance and freedom.
Eliminate uncertainty, anxiety, doubt and fear.
Leverage your skills more effectively and efficiently.
Prepare for all life stages including retirement.
Enhance your quality of life, and overall peace of mind
Be more, do more and ultimately have more from life.
Using the Personal Strategic Plan you CAN achieve your own personal success.
Refer to the "Software" and "Systems" tabs on the NavBar for more reviews on other goal setting software and systems available.
---
Book of the Month – "Manage My Time Now", by Rigdha Acharya
Do you want to know what the biggest secret to success is?

What if you had the opportunity to see exactly how to manage your time to increase the amount of money you're making, get that promotion, spend more quality time with your family and work on your career, business and personal goals?

Now you can see exactly how to take control of your time to create the work at home experience you've always been dreaming about.

Through a combination of proven time management strategies personally tested and tried, powerful exercises to help you apply the strategies right away and worksheets to keep you accountable, Rigdha Acharya can show you how to take control of your time too.

In the ebook "Manage my Time Now"you'll learn:
How to set powerful goals that can help you eliminate procrastination and give you unlimited motivation.
How to deal with distractions like email, phone and of course information overload.
Why it's more effective to make a list of tasks as things come up instead of rushing to tackle every new problem when it springs up.
How to recognize the difference between the 4 types of tasks and decide which one to work on.
Why it's so important to schedule your family, relationships and personal goals first.
How to leave work worries at work and enjoy great time with your family!
The 63 page ebook "Manage my Time Now" will give you insights and specific techniques you can use immediately to create more time and effectively manage your tasks throughout the day.
You can also download one of Rigdha's FREE e-books from "Manage my Time Now". Just click from the list below!
---
Featured Link of the month - www.GoalsGuy.com
Some of the best opportunities in life are the ones we create.
The GoalsGuy provides for you the opportunity to create a focused, goal-directed life and business culture that delivers results.
The GoalsGuy, driving mission is simple…to help their clients build and sustain superior performance in all areas of their personal and professional life.
They believe passionately in the enormous, untapped potential that resides within each person, and are committed to providing individuals and corporations with tools of knowledge and skills they can use to unlock this potential.
Because the GoalsGuy is serious about its mission, the site brings to you a complete suite of performance improvement solutions.
The site offers e-books (some free ones too), ecourses, training programs and a regular newsletter on success and goal setting related topics to keep you up to date and refresh your goal setting journey. There are also Audio and Video versions of you don't like reading!
By far their best product is the Personal Strategic Plan, which is based on the premise that life will not go according to plan, if you do not have a plan. Read the Product Review above to find out for about this step-by-step program and of course, check out the GoalsGuy website and get your life on track!
ToolBOX Talk – how to get the best out of the 'Environmental Audit' worksheet
The ToolBOX on the website contains FREE forms, templates and worksheets for all your goal setting needs.

In the "Environmental Tools" section you'll find an Environmental Audit Worksheet. The purpose of the personal environmental audit is to take a snap-shot of your life and look at which activities are causing more environmental harm than others, and therefore help you identify how you can make a difference.

The Environmental Audit worksheet is essentially a checklist of your life's activities and how much impact they're having on the environment. So by completing the audit, you'll be able to identify opportunities for reducing this impact. And better still, many environmental savings result in financial savings too – so you can save the planet AND your wallet at the same time!

Doing the audit is easy enough, but it's what you do with the information that's important – particularly if you're serious about improving the environment. From the audit, you can identify what you're already doing well and also begin to target areas for improvement - here are some tips for prioritizing possible improvements:
Eliminate wastage as a first priority – wasted energy, wasted water, wasted packaging and wasted food. Identify where you can save energy and water, select products with minimal packaging and efficiently use products and foods so you don't throw out unnecessary waste. Wastage also implies wasted money, so by prioritizing these areas first you'll get the additional reward of saving yourself some money too.
Target lifestyle changes – some lifestyle choices have a higher environmental (and financial cost) than others. So identify which lifestyle activities are costing you and the environment the most. Try walking to work (or car-pooling) instead of driving alone, hang clothes on the lines rather than using the drier, and so on. Again, some small changes in lifestyle can add change to your pocket, while helping the environment too.
Finally, identify the 'things' in your life that consume more energy or water than they should and consider replacing them with more efficient devices. This may include washing machines, dishwashers, hot water systems, and even the car you drive. It can obviously be quite expensive to replace these items and even with the off-set in energy and water savings it can take some time to recoup the replacement cost. The best strategy may be to simply replace these items when they are no longer useful and then make a careful selection on the replacement item.
It's also important to revisit the audit every 6 months or so, to see how you're improving. Hopefully you'll have noticed a better cash flow too!
For more information on environmental goals, refer to the ""Environmental Goals" page of the website, under the "Popular Goals" tab on the NavBar.
Have you got a better goal setting tool that you'd like to share with the world? Well, send it in and we'll add it to the ToolBOX – kudos to you of course!
---
Our Quote of the Month – explained…
"Success is the maximum utilization of the ability that you have.", Zig Ziglar

Zig Ziglar is one of today's most acclaimed motivational writers – and for good reason. He always considers that there are real people involved.

You'll often hear people say things like "Anyone can do it" and "You too can be a millionaire". But the reality is that we are all different and can't all achieve the same things. We can't all be Bill Gates, nor do we all want to be. But we can all be successful at what we do.

So the important thing to realize, is that we can all achieve our own personal success – but your own version of 'success' is unique to you and your own abilities.

And this is what Zig Ziglar's quote is saying – you have a unique set of abilities based on your skills, life experience and natural personality – and by putting all of these into a mixing pot, the result will be your own personal success.

Of course, this doesn't happen magically by itself [it's not one of those magic self-saucing puddings my partner makes]. You need to set goals and prepare personal action plans to achieve these goals, but based on YOUR unique abilities and attributes.

The trick is to find out what your abilities are, and how to make this your success.

I love this quote from Ziglar as it sums up the philosophy behind out website and the FREE Life Planning Workbook we offer. By following this workbook, you'll find out what your natural abilities and personality attributes are and how these affect your success. If you haven't checked out the Life Planning Workbook yet, I encourage you to give it a go!
---
Well, that's all for now!
But don't worry, the next edition of "The Goal Kicker" is only a month away.
We would love to get your feedback on "The Goal Kicker"– what do you like? What don't you like? - so we can make it even better.
Catch you next month!