>,


The Goal Kicker – July 2009
Welcome to this month's edition of "The Goal Kicker" – the monthly ezine produced by achieve-goal-setting-success.com - dedicated to helping you achieve your goals by providing goal setting related articles and reviews of the latest goal setting products available.
In this edition you'll find:
An article on "Mind Mapping for Goal Setting"
A review of the "Goals On Track" goal tracking service
A review of a collection of DVD's to help you help your kids get ahead
A review of this month's Featured Link to www.MindTools.com
ToolBOX Talk – how to get the best out of the 'Personal SWOT Analysis'
Our inspirational quote of the month explained.
So, I hope you enjoy this month's edition of "The Goal Kicker" – and achieve your own personal success by setting goals today.

Yours truly,

Sam Sander
Achieve Goal Setting Success
Your Money and Finance
The Success Squid

Have you downloaded your FREE gift for subscribing to "The Goal Kicker"? If not, please download and enjoy your FREE copy of "How to Make your Dreams Come True" by Don Loyd as a thank you for subscribing to our newsletter.

As part of this subscription we also issue a mid-month mini-newsletter – "The Goal Kicker: Hot Topics". This mid-month issue is part of the same subscription as the monthly "Goal Kicker" and will include a short punch-list of new releases, new websites and refreshers on a range of success topics.
---
"Mind Mapping for Goal Setting"
What's this article about?
Mind Mapping is a useful tool for developing and documenting any thought process. It can be used for planning, studying, problem solving and of course – goal setting! This article discusses how it is done and includes a link to a great (and FREE) e-Course on mind mapping.

Here's the Article…
A mind map for goal setting is a great tool for brainstorming your wishes and desires.

To do a Mind Map for goal setting, all you need is a large piece of clean paper. Make sure there are no lines on it (as that will impose a 'structure' on your thinking, which we don't want) or if there are lines, turn the paper so that the lines are vertical.

In the center of the page, draw a circle and write in it in capital letters something like "My Life". This is the key thought for the Mind Map. Now, draw lines radiating out from this circle and at the end of each one of lines, write the name of a life aspect you want to consider. Leave lots of space so you can start to fill it in.

From here it's just a matter of jotting down whatever comes into your mind for each of the life aspects – this is the brainstorming bit!

The thoughts and ideas you need to get down in this Mind Map for each life aspect are:
The things you don't like about your life as it is.
The things you like about your life.
What you want to happen/ have.
What you don't want to happen/ have.
The 'gap' between your current life and your 'perfect' life.
As you jot down all your thoughts, you will see some common threads – connect these with lines and arrows (use colour so it's easy to follow).

This is an opportunity to reflect on where your life is and better still, get excited about the things you want to do and where you want to take your life. That's the whole point of effective goal setting – by making it personal, it really IS interesting and you should get a real buzz just thinking about the endless opportunities that await.

It's important to keep your Mind Map for goal setting handy – after all, it is a map of your inner most thoughts and desires. Keep it in a prominent spot and refer to it regularly.

Mind Maps have many other uses too - so it's a good skill to learn.

Mind Map Video Training – and it's FREE! If you want to learn how to use Mind Mapping techniques effectively, then register for this FREE Video Training Course from NovaMind. It goes through the 18 main uses of Mind Mapping and gives you in depth information about how to benefit from using Mind Mapping for each of those purposes. The course covers:
How to take notes effectively using Mind Mapping
How to prepare and deliver great presentations using Mind Mapping techniques
How to create Mind Mapped to do lists
Problem solving using Mind Maps - from simple to complex problems
Decision making - how to make great decisions confidently, no matter how difficult the decision is
Information and knowledge management and how to get the most out of what you know
Project planning and management using Mind Maps
Creative thinking and brainstorming
How to write articles, technical documents and books using Mind Maps
Business and strategic planning using Mind Maps
Life management and goal setting
Did I mention it's FREE? Register here. And refer to the "Mind Mapping" page on our website for more information on how to do a mind map.
---
Product of the Month – "Goals on Track"
I get asked a lot of questions about how to stay on track to achieve goals – afterall, if you can't track your progress on your goals, how can you achieve them?

And there are many techniques you can use to do this – you can use your calendar or "To Do" functions of your email system, you can use a diary or planner, or just include regular goal monitoring sessions in your daily routine.

But if you find it difficult to stay disciplined enough to track your goals effectively, there is a web-based software solution available! It's called "Goals On Track".
Goals on Track is an online software program that allows you to track your goals, tasks, progress and timeframes. It allows you to:

1. Organize and manage your goals, so that you always have a clear view in mind where you are now, and which direction you are going.

2. Create action plans, so that you can turn your goals into reality by defining what needs to be done to move forward.

3. Manage your daily tasks, so that you are focused on only the most important things for achieving your goals everyday.

4. Track your time, so that you use your time wisely, and get important things done first, work less and achieve more.

5. Keep a journal for your goals, so that you can record your thoughts and document your efforts on your path to success.

6. Review and measure progress, so that you can see the instant progress on your goal whenever you complete a task, and always stay positive and feel motivated.

I've personally checked out this program, and think it's an excellent way of keeping serious about your goals. And whether you try this program, or some other method, tracking your goals in CRITICAL in achieving them.

So, if you need a hand keeping track of your goals, then check out "Goals On Track".
---
Book of the Month – a collection of Childhood Development DVD's
Time Out Tot, The Behavior Coach
Unlike anything on the market today, TimeOut Tot, The Behavior Coach teaches appropriate behavior. Tot is a loveable neighborhood squirrel (puppet) who visits young children (2-6) in 'timeout' and coaches them on what is right and wrong using honest words, simple songs and role play. Fun and easy-to-sing tunes reinforce Tot's meaningful messages. Also on the DVD, are great tips for parents on how to manage misbehavior.
Misunderstood Minds: Understanding Kids Who Struggle to Learn (2002)

As many as one in five families are coping with children who struggle to learn. Many of these children don't fit any clinical diagnosis, but for some reason, they aren't learning. Though these children may be suffering from debilitating learning problems, they are often mistakenly called "lazy" or "stupid" by teachers, classmates, and even by their families. Misunderstood Minds features leading experts in the field of learning problems, including Mel Levine, M.D., G. Reid Lyon, Ph.D., Edward M. Hallowell, M.D. and Richard D. Lavoie, M.A. M.Ed.
Motivation: Key to Classroom Success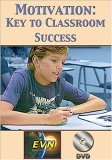 Motivating students is often hard work! Make it easier for yourself by knowing effective strategies that will make your students WANT to learn.
Success for Teens Motivational DVD
Formula for Success is a motivational resource consisting of six DVDs that provide answers, solutions and guidance for teens struggling with every day issues, such as achieving better grades, personal relationships and fitness. The program also provides a clear outline to help teens identify and achieve their goals. The new motivational tool has just been issued by Success For Teens, a California-based organization focusing on teen communication and behavior.
---
Featured Link of the month - www.MindTools.com
MindTools is one of my favourite websites for essential career – and life – skills. In fact, this is the website that inspired me to create Achieve Goal Setting Success. So I really recommend you have a look at this site, and even sign up for the newsletter – it's one of the best I've seen too.

And the best thing about the site is that all this wonderful information, tools and templates are FREE!

The site contains valuable information and practical tools and templates on essential skills such as:
Time Management Skills
Techniques for Controlling Stress
Leadership Skills
Decision Making Techniques
Project Planning Skills
Information Skills and Tools for Understanding Complex Situations
Memory Techniques
Communication Skills
Creativity Tools
Now while all this information is FREE, you can purchase the e-book containing all of this information – and there is a LOT of information – so you can read it off0line. The e-book also excludes the advertising material, so it is free-flowing and easy to read.

So, get skilled with 'Mind Tools' – this site is a MUST see! [and don't forget, it's mostly FREE].
---
ToolBOX Talk – how to get the best out of the 'Personal SWOT Analysis' Tool
The ToolBOX on the website contains FREE forms, templates and worksheets for all your goal setting needs.

In the ""Life Planning Workbook" you'll find a Personal SWOT Analysis template.

The website and SWOT analysis tool gives quite a lot of guidance on how to do a personal SWOT analysis – so I won't go into this again.

But how do you actually apply this information?

Well, let's say for example, you work as part of a team full of other ambitious people who are all trying to push their way into your manager's close circle. One of your weaknesses is 'lack of assertiveness', so you don't feel you can match the confidence of the other people in your team.

But one of your strengths that you've identified is being able to comprehend speech and take good notes. This is a great skill for conferences etc., but how can you lever off this in you career?

Perhaps you could offer to take minutes of meetings for your manager at critical meetings – a few good sets of minutes with accurately minuted actions will make you a valuable asset to you manager and before long, you'll be getting invited to all of his meetings and soon become his right-hand-man [or woman]. What a great way to get noticed – and get ahead of your team mates!

And as you get closer and more valuable to your manager, he will begin to value your opinions and other skills – and before too long, your self-confidence will have soared and you will start becoming more assertive!

Do you see how in this example, you used your strengths to cash in on an opportunity to get closer to your manager and at the same time, squashed your threats AND improved a weakness.

This is also an example of 'expert' leadership, where you gain followers through your technical ability, rather than charisma or delegation – and 'expert' leadership is the best kind of leadership.

Of course if note taking is one of your weaknesses, then try a different approach. Perhaps you could offer to prepare the PowerPoint presentations for these meetings instead, and then use the meetings as a way of practicing your comprehension note taking skills.

So do your own personal SWOT analysis – what personal strengths can YOU use to capture an opportunity?

For more information on how to do a personal SWOT analysis, refer to the ""Life Skills" tab on the NavBar, and follow the prompts to the SWOT Analysis page.

Have you got a better goal setting tool that you'd like to share with the world? Well, send it in and we'll add it to the ToolBOX – kudos to you of course!
---
Our Quote of the Month – explained…
"A journey of 1000 miles starts with the first step" Simple, I know – but so many people get intimidated by their goals because they focus on how much work and effort they have to put in to achieve them. And this is bad news as it paralyses you from taking action on your goals.

And yes – some goals DO take a lot of time and effort to achieve. It takes on average 1000 hours to learn a new skill – and that's only to a level where you are barely proficient! It takes much longer to become an 'expert' and longer still if you're trying a skill that's 'difficult' for you.

Goals like weight loss can also seem daunting – when you know you have 20 kg of weight to lose, it's hard to believe you'll ever get there.

But you will – one step at a time. You'll achieve your skill – by putting in 1 hour of effort at a time. You'll lose your 20 kg, by losing 1 kg at a time. And every piece of the 'new skill puzzle' you put together, and every bit of weight you lose – will get you more and more motivated to take that next little step towards your goal.

How do you eat an elephant? One bite at a time.

So break your goals up into mini-goals and achieve these one at a time – knowing that each one is moving you towards your ultimate destination.

And regularly measure your progress against your goal – record every hour you spend developing your new skill, record your weight every week. If you monitor your progress, you'll see that elephant getting smaller and smaller – and you'll see the realization of your goal.

Want more information on HOW to monitor your goals? Checkout the ''How to Achieve' tab on the NavBar to find out.
---
Well, that's all for now!
But don't worry, the next edition of "The Goal Kicker" is only a month away.

We would love to get your feedback on "The Goal Kicker"– what do you like? What don't you like? - so we can make it even better.

Catch you next month!